Polar explorer Mark Wood hit by rescue bond cost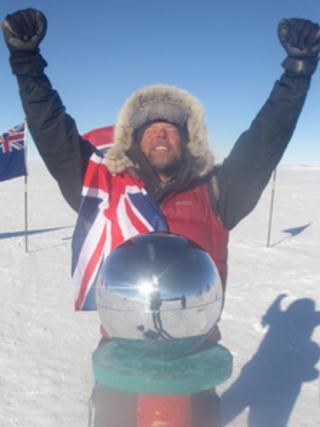 A polar explorer from Coventry has made a "massive compromise" to his plans to ski from the North Pole to Canada because of the cost of the rescue bond.
A specialist Arctic airline wanted £100,000 to cover its costs if it had to pick up Mark Wood unexpectedly.
Mr Wood is now skiing a round trip of 140 miles (222km) to the North Pole from the Norwegian Arctic.
In January, Mr Wood, 45, completed a 612-mile (985km) ski to reach the South Pole inside 50 days.
"The bond requirement effectively ruled out any chances of a North Pole expedition - either as a starting point or finishing point, from the Canadian side," he said.
Mr Wood has now started to ski to the North Pole from Ice Station Barneo, a temporary camp run by Russia near the island of Svalbard in the Norwegian Arctic.
He had already abandoned plans to ski from Canada to the North Pole because of the "fragile ice" in the Canadian Arctic.
Instead he planned to be dropped at the North Pole and ski to Canada, following the drift of the Arctic ice.
His expedition is being staged to raise awareness of climate change.