London 2012: Coventry residents to get parking information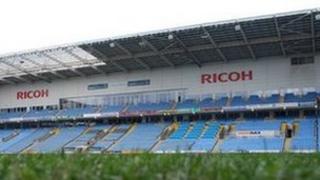 Residents near to the Ricoh Arena in Coventry are to be made aware of parking and transport arrangements ahead of Olympic football games.
A presentation by Games organiser Locog will be held on 12 April at Exhall Old School Community Centre from 18:00 BST.
Residents will be able to discuss any issues with the organisers directly.
Warwickshire County Council said: "This is a once in a lifetime event and we are striving to minimise disruption."
As on match or major event days, the parking protection area will operate on Olympic match days from two hours before the game begins until one hour after it ends.
When there are back-to-back matches, the protection will remain in place between games.
Councillor Peter Butlin, the council's portfolio holder for transport and highways, said: "A lot of work is going on behind the scenes to ensure that the necessary parking arrangements are in place for local residents and businesses when the Olympic football comes to Coventry."