Coventry Transport Museum: Extension plans on track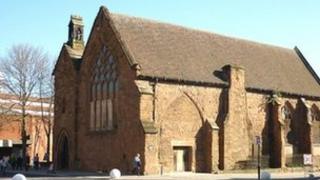 Plans to apply for nearly £5m to turn a derelict 14th Century former school in Coventry into an archive for the Transport Museum have been approved.
The Heritage Lottery Fund (HLF) has said campaigners can apply for £4.9m to refurbish the Old Grammar School.
Gary Hall from Coventry Transport Museum said: "It will become an extension to the museum, we have one million items in our archive."
If successful he said the building would be home to six new exhibitions.
Mr Hall said: "The idea is to get some of the objects on display and make it more accessible for the public and schools."
Chairman of the Coventry Society, Keith Draper, said the Grade 1 Listed building on the corner of Bishops street and Hales street building hac been a "concern" for many years.
"We welcome any firm proposal to reuse the Old Grammar School, it's been at risk for many years and it's an important heritage building," he said.