Aspiring drivers with autism taught by Leamington man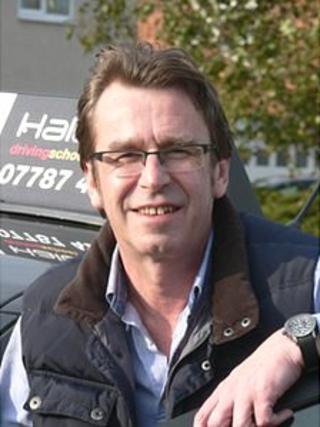 "I spent 42 difficult years wondering why I was so different from everybody else."
David Myatt was diagnosed with Asperger's syndrome later in life than some, but nine years later the 51-year-old is helping others with the disorder - as a driving instructor.
As he celebrated his birthday on World Autism Awareness Day on Monday, he was looking forward to his first pupil with Asperger's syndrome taking her driving test in the next two months.
Autism and Asperger's syndrome are part of a range of disorders that can cause difficulties with communication and social skills, and which can lead to isolation and emotional problems.
Mr Myatt's one-man Halo Driving School in Leamington Spa has been going for five months, specialising in teaching young people with autistic spectrum disorders to drive.
'Getting a reaction'
He said: "Some pupils get overwhelmed with too much verbal information at once.
"There can be a delay in giving information and getting a reaction.
"Some pupils have difficulty understanding diagrams - for instance, showing how you can use a roundabout. Some pupils can't relate the diagram to an actual roundabout on the road itself.
"Sometimes we can just do it verbally. Other times I will stand at the side of a busy roundabout with my pupil and explain how to negotiate it."
Mr Myatt had been in the design and print industry all of his working life, but after being made redundant in 2007, he decided to re-train as a driving instructor.
However, he gave up before finishing the course because he said his disorder made the training difficult.
But when the BBC's Autistic Driving School documentary was on television, showing young people with autism learning to drive, it led to him trying again.
Mr Myatt said he emailed the programme praising it and a producer put him in touch with a driving instructor with an autistic spectrum disorder, Julia Malkin MBE, who then trained him in the role.
Now he claims to be one of only three Driving Standards Agency registered driving instructors in the UK with Asperger's syndrome.
He said: "I've learnt to live with it. I've adopted my own coping strategies... Sometimes I can pass those strategies on to my pupils.
"I think communication is the most difficult aspect of having Asperger's [syndrome] for me. You miss the subtleties of communication. A lot of stuff can go over my head.
"Social interaction is also difficult for me."
Now the driving instructor hands out "simple" and "concise" information, which is "not open to interpretation".
He said: "For instance, you can't use sarcasm or innuendo. You have to deal with things absolutely factually."
Those with autism may have difficulties understanding gestures, body language, facial expressions and tone of voice, making it difficult to judge or understand the reactions of those they are talking to or to empathise with people's feelings.
As a result, they may unintentionally appear insensitive or rude to others.
Mr Myatt, from Leamington, said: "Sometimes you can get quite blunt responses. I don't take offence to it.
"If they don't understand something, they will say. Generally, the feedback from them as a pupil is much more honest [than those without autistic spectrum disorders]."
About two thirds of his pupils have autistic spectrum disorders or are people with dyslexia, dyspraxia or anxiety, which also involve the instructor using "largely similar" techniques.
He added: "A lot of people on the spectrum have fairly low self esteem.
"The most important thing is to build confidence first before trying to correct faults."