Meriden Gypsy site protesters mark 700 days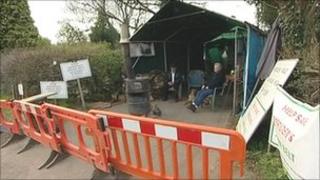 Protesters camped outside an illegal Gypsy site in the West Midlands have been marking 700 days of protest.
Residents who are against the camp in Meriden served tea and scones throughout the day.
Residents Against Inappropriate Development (Raid) set up their own camp in protest and have to remove their temporary shelter by 29 April.
The Gypsies have reached an agreement with Solihull Borough Council to leave their site by 31 March 2013.
Raid members have been taking it in turns to hold a 24-hour vigil at the camp since the Gypsies erected eight permanent caravan pitches on a green-belt site in the village on 30 April 2010.
Campaign chairman David McGrath said: "We remain undeterred. We have won all the important legal victories and our campaign will not cease until the green belt is restored."