Shawn Tyson murder trial: Gun was 'buried by friend'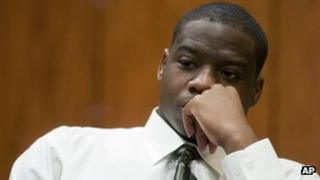 The friend of a teenager accused of shooting dead two British tourists in Florida has told a court how he buried the gun to help him out.
Marvin Gaines, 19, said he had buried the shell casings and a gun in his back garden to help Shawn Tyson, who denies committing the double murder.
James Cooper, from Warwickshire, and James Kouzaris, from Northampton, were found shot dead in Sarasota last April.
Mr Gaines said his friend had confessed to him saying "Oh bra, I did that".
Mr Tyson will not give evidence in his defence.
When asked by Judge Rick De Furia if he wished to remain silent, he said: "Yes, sir."
'Bury them'
The British tourists, who met at Sheffield University, were found dead on 16 April in a public housing neighbourhood in the Newtown area of the city.
They were stripped to their waists and their trousers had been pulled down to their thighs, but they still had their wallets and a small amount of cash on them.
Mr Gaines told the court that when he had met Mr Tyson on 16 April, the accused had asked him if he had heard "about them people getting killed back there?"
Mr Gaines said he had known nothing about it, to which Mr Tyson had replied: "Oh bra, I did that."
He said Mr Tyson had then given him the shell casings from a suitcase he had hidden in his brother's bedroom.
"He gave them to me and told me to bury them," Mr Gaines told the court.
"I asked him, 'do you want me to bury them or throw them away?' He told me to bury them."
The murder weapon has not been found.
Recovered bullets
When questioned by police, Mr Gaines initially denied any knowledge of the murders.
However he later decided to co-operate when detectives told him that he could be charged as an accessory to murder.
Firearms expert Rosemary Jassoy examined two bullets recovered from the bodies of Mr Kouzaris and Mr Cooper.
She also examined all seven shell casings and said the casings and the bullets were suitable for a 0.22 calibre revolver.
She said the casings had been fired by the same gun but there was no way to prove the recovered bullets had come from any of the seven casings.
The court also heard DNA matching the profile of Shawn Tyson was found on a sample taken from Mr Cooper's jeans.
Crystal Oechsle, a DNA analyst from DNA Laboratories International, said samples were taken from four areas on the garment.
On one, from the left front leg of the trousers, she said a mixed DNA profile was found, which included Mr Tyson's DNA.
The trial continues.