Shawn Tyson trial: Murder accused often carried a gun, court hears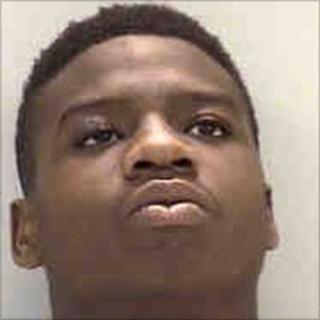 A teenager accused of murdering two British tourists in Florida often carried a revolver which he fired into the air, a US court has heard.
James Cooper, 25, from Warwickshire and James Kouzaris, 24, from Northampton, were shot dead in Sarasota last April.
Floridian Shawn Tyson, 17, from Sarasota, denies two counts of first degree murder.
His friend Jermaine Bane lives near Mr Tyson and told the court that he regularly saw Mr Tyson carrying a gun.
He told the court he met Mr Tyson about three years ago, they lived within minutes from each other's house and typically spent about 10 hours per day in each other's company.
Shots fired
Mr Bane told jurors he often often saw his friend with a 0.22 calibre revolver in his pocket.
He said he had seen Mr Tyson fire the gun into the air on about four or five occasions.
He said shortly before the tourists died, Mr Tyson had mentioned spotting the Britons walking around the public housing neighbourhood where he lived in Newtown, Sarasota.
Mr Bane told the court he received a phone call from Mr Tyson in which he talked about the British men, who he referred to as the "crackers", meaning white men.
Mr Bane also reported hearing gunshots around the time of the fatal shooting in the early hours of 16 April and said when police searched Mr Tyson's house, he saw his friend throw something into another friend's car.
The two British men were found shot dead and stripped to the waist.
Their trousers had been pulled down to their thighs, but they still had their wallets and a small amount of cash on them.
Murder confession
Mr Kouzaris had been staying with Mr Cooper's family in Longboat Key, an island 12 miles away from where their bodies were found.
Latrece Washington, another of Mr Tyson's friends, told the court how Mr Tyson had described the killings to her and a friend as a failed robbery attempt.
Mr Tyson was with someone else when they spotted the two British men he planned to rob, she said.
She said Mr Tyson had told her the men looked drunk and when he found they had very little cash on them, he told the men, "well since you ain't got no money, I got something for your ass".
Ms Washington told the court: "That's when he like shot one of them in the side and one of them fell instantly and then the other one was crying for his life, and he shot him and emptied the clip on him."
The trial continues.