Financial abuse against elderly on rise in Warwickshire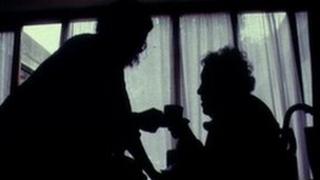 Cases of financial abuse against vulnerable elderly people are on the rise in Warwickshire, according to the county council.
It said in the majority of cases thefts were carried out by relatives or people in a position of trust.
Safeguarding referrals to the council grew by 9% in the last two financial years, with the trend continuing to rise in 2011-12.
The council said the number of reported cases were the "tip of the iceberg".
Last year 158 cases were reported to the social services team, often committed by family members, friends, neighbours or carers.
After neglect, financial abuse - including theft, fraud and misuse of powers of attorney - is the most common form of abuse suffered by people aged 65 and over.
Warwickshire County Council, in partnership with Age UK, is due to launch a campaign later to encourage other victims to come forward.
Fear retribution
In one case a 66-year-old man was forced to live on £1 a day, burning furniture to keep warm, while a friend stole his benefits.
The council said it was only alerted to the situation because a neighbour was concerned by the potential hazard after seeing a fire in the middle of the lounge.
The social services team found the home almost empty of furniture and without gas, water and electricity. Parts of a kitchen worktop and door frames were leaning against a sofa ready to burn.
In another case an 85-year-old woman was forced to hand over hundreds of pounds by her son on the premise of paying for fortnightly travel to see her.
Councillor Izzi Seccombe said: "These cases have been hidden because they are difficult to identify and older people may have feared retribution or the impact on their family relationships."