Shawn Tyson trial: Sister held 'over Facebook message to witness'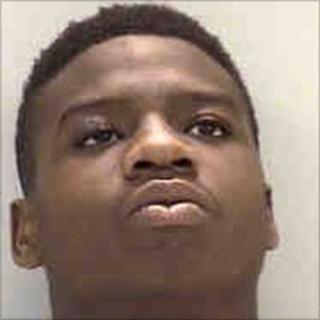 The sister of a teenager on trial accused of murdering two British tourists in Florida has been charged with retaliating against a witness.
Samantha Huffman is believed to have been arrested over a comment she made on Facebook, directed at Nakeira Keno.
Ms Keno, 21, had given evidence in the trial of Shawn Tyson earlier this week.
Mr Tyson denies murdering James Cooper, 25, of Warwickshire and James Kouzaris, 24, from Northampton, who were shot dead in Sarasota, last April.
Ms Keno told the court on Thursday that she saw the men walking through the public housing complex, known as The Courts, just before the shootings.
That evening Ms Huffman wrote on her Facebook page: "Nakeira Keno.....i hope u got a check for takin the stand...", as well as several insults directed as Ms Keno.
'Exercising free speech'
Sarasota Police Department records show that she has been charged with retaliating against an informant, victim, or witness.
According to the Sarasota Herald Tribune, police said when they questioned her about the Facebook post she told them she was exercising her right to free speech.
Ms Huffman's arrest highlights difficulties police say they faced trying to investigate the murder.
Det John Todd, lead investigator, told the court people did not want to be seen to "rat out" or "snitch" on Mr Tyson.
"This is a very tight group, they were all friends," he said. "They all lived in a very tight-knit small community and they were friends."
"These guys don't want to be labelled as a snitch."
Mr Tyson's defence lawyers have said several witnesses changed their stories once they were offered plea deals, or other benefits, by police.
It is claimed two witnesses were given help moving out of the area, while others are said to be testifying in exchange for lesser sentences for other crimes.
The court has not heard any suggestion that Ms Keno was offered any deal or encouragement to give evidence.