Tendulkar items on sale after 100th international century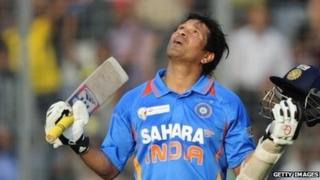 Cricketing memorabilia signed by legendary Indian batsman Sachin Tendulkar has gone on sale after he scored his 100th international century.
Coventry-based Autographs of the World has been waiting for the batsman to reach the landmark, which he managed earlier this month against Bangladesh.
The firm travelled to India to secure the merchandise after Tendulkar hit 99 almost 12 months ago.
Items include shirts, bats and prints.
'Extraordinary achievement'
Spectators stood and applauded Tendulkar - known by fans as the Little Master - after he hit his century during the Asia Cup match in Dhaka on 16 March.
He has the hit most Test and One Day International centuries and is the highest run getter in both forms of cricket.
He struck his first Test century against England in 1990.
Hamilton Bland, from Autographs of the World, said: "The following for India cricket is massive not only in the country itself but also globally.
"What Sachin Tendulkar has achieved is extraordinary, and the chances are that no other cricketer will ever come close to matching it."
He has estimated thatthe collectioncould fetch in excess of £4.2m in re-sale value.
"You can imagine I was sweating right up until he hit the final runs," he added.