Coventry Olympic volunteers uniform is unveiled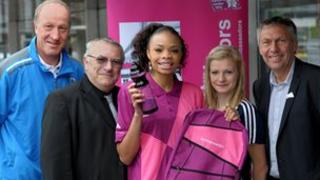 A new uniform that will be worn by hundreds of people who have volunteered to help in Coventry during the London 2012 Olympics has been unveiled.
The city is hosting a number of Olympic football matches.
Known as Coventry Ambassadors, the volunteers will be on hand to welcome visitors to the city during the Games in July and August.
Organisers said they would be posted at key city centre locations as well as around the City of Coventry stadium.
Councillor John Mutton, Coventry City Council leader, described it as "a great example of organisations and individuals working together for the good of the city".
"The ambassadors will serve as a valuable source of information and guidance for residents as well as visitors to Coventry during one of the most exciting times in the history of the city," he added.