London 2012: Coventry and Warwickshire torch relay route revealed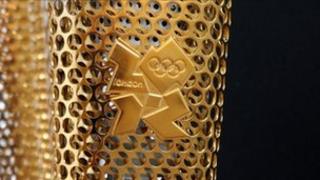 The places where the Olympic torch will travel to in Coventry and Warwickshire have been revealed.
Organisers said torchbearers would run through a number of areas on 1 and 2 July as part of a 70-day UK tour which starts on 19 May.
The torch will be taken to Warwick Castle and Kenilworth Castle when it travels through Warwickshire.
It will also visit Coventry Cathedral and the Ricoh Arena, which will host football matches during the Games.
The arena will temporarily be renamed the City of Coventry Stadium during the 2012 Olympics.
The torch will also pass through Newbold on Stour, Alderminster, Stratford-upon-Avon, and Royal Leamington Spa and will visit Rugby School and Dunchurch.
Torchbearer Peter Frazier said he never thought he would get the chance to carry it in Leamington Spa.
In 1981, he was the first person to run a marathon after a kidney transplant.
Since then, the 61-year-old has run a further seven marathons, also representing Great Britain six times at the World Transplant Games, winning medals on four occasions.
He was nominated to carry the torch by his son-in-law who said he "epitomises the Olympic spirit".
Mr Frazier said: "It feels really, really nice.
"It does not matter where it is, it's nice to be, for a few minutes, the person with the flame.
"The Olympics is such a big thing, a marvellous event, it's something to tell your grandchildren about.
"I'm really looking forward to it.
"I never thought I'd get the chance to do it as there were so many applications.
"I'm getting back into training now to make sure I can run the distance."
Premier Group in Exhall, Coventry is making all 8,000 2012 Olympic torches.