Daw Mill closure would mean 'depression' for the area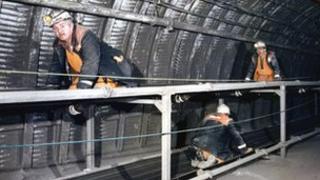 "I'll be very sad because I've seen what happens, it produces dejection and depression in the whole community."
Dr John Bland, a GP from Berkswell, has worked in the North Warwickshire area since 1960. He has treated coal miners and their families for 40 years and still runs surgeries in Nuneaton.
He saidthe possible closure of Arley's Daw Mill colliery, the UK's biggest deep coal mine, would be another massive blow for the community.
Dr Bland said: "The demographic has changed in recent decades, the bulk of the workers now live in the surrounding villages like Kingsbury, Whittaker, Polesworth and Dordon, rather than being concentrated in just one or two like Arley."
There were up to 15 collieries in north Warwickshire employing thousands of people in the late 19th Century.
Although it is no longer "a one occupation community", Dr Bland said the potential impact on jobs will be felt as strongly as when Arley pit was closed in 1968.
About 800 jobs are under threat if Daw Mill closes.
"The village went into the doldrums for about 10 years and there was an air of depression until the Queen's Jubilee in 1977.
"The colliery did a great deal for people, housing was provided as well as a doctor's surgery.
"As pits were winding down the young people were pushed out to villages further away and eventually the National Coal Board sold Arley to a developer."
John Burton, a North Warwickshire historian, said closing the pit is predictable.
He said: "It sounds fatalistic but it's almost an economic inevitability when they've exhausted the mines."
He said other extractive industry jobs like quarrying, particularly in Nuneaton, have nearly all gone.
"There were other jobs outside of the mining and industry but they were not that well paid and towards the end of the mining period the workers were all high earners.
"You could say Daw Mill is a sign of history repeating itself, like we saw during the Thatcher years."
Dr Bland said he would be "disappointed" if the colliery closed.
"I think we're going to need the coal and hope they mothball one otherwise it's going to be very expensive to open up again and the skills will all be gone.
"We're still sitting on a huge resources and perhaps need to find easier ways to extract it."