Coventry 'shared space' junction plans reviewed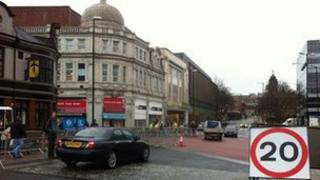 Plans for more "shared space" junctions in Coventry are to be reviewed by a council scrutiny committee.
The four-way junctions do not have traffic lights or kerbs, creating an area where neither pedestrians or vehicles have right of way.
Councillor Dave Nellist said the meeting was a chance to review a "deeply unpopular decision".
In January, Coventry City Council defended the safety record of the first shared space at Gosford Street.
A second junction on Corporation Street and Queen Victoria Road will be introduced, the council said.
City redevelopment
The Labour-controlled authority said it had received two petitions with a total of nearly 700 signatures against the schemes.
The changes to the traffic system are part of a £7m redevelopment of the city centre ahead of the Olympic Games when Coventry will host football at the Ricoh Arena.
Mr Nellist said: "To many people this decision was rushed into in order to make the new scheme ready for Olympic visitors in the summer.
"I'm not happy that the rest of us who live here 365 days of the year have been treated in such a cavalier fashion."
A spokesman said the Scrutiny Coordination Committee cannot overturn a decision made by a cabinet member, but it can recommend that the cabinet reconsider the decision.
The public can attend the meeting which will take place at 09:30 GMT on 21 March.
The council said it hoped the new crossings would be completed by May.