Daw Mill: Workers briefed about mine's future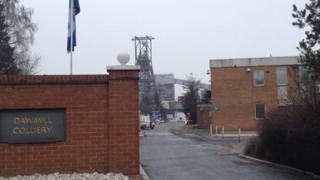 Daw Mill, near Arley, is the last remaining mine on the Warwickshire coalfields, an area that once boasted 20 pits.
Today, it is the UK's biggest deep coal mine.
The area the mine - which employs about 800 people - covers is vast and passers-by cannot appreciate the size of the mine from the road.
But Daw Mill's future has now been put in doubt after an announcement from owners UK Coal.
The company has said that although the mine had "considerable long-term resources", production is 175,000 tonnes behind budget, and said it was now considering closing it.
A UK Coal spokesman said the mining community in the area had "lessened" with workers now arriving from all over England.
About 100 people arrived for the 11:30 GMT shift, where they were to be briefed about the consultation.
Those on the early shift had already been briefed and the remaining two shifts would be briefed later.
Mine sunk
Daw Mill started life as a ventilation shaft for Dexter Collier, near Coventry, which closed in 1987.
When a rich seam of coal was discovered, a full mine was sunk in 1957, 558m deep.
A second shaft - 556m deep - was dug between 1967 and 1971.
In 2008, UK Coal produced a record three million tonnes of coal at Daw Mill, but was also in the headlines for three deaths at the site between 2006 and 2007.
In 2011, the company was ordered to pay £1.2m after admitting health and safety breaches.
With a five-metre thick seam, the Warwickshire coalfields have been one of the richest in the country since the Industrial Revolution.
UK Coal predicted that the resources of coal under Daw Mill could last until at least 2028, but plans to restructure the business threaten that.