Tree in garden of Shakespeare's birthplace cut down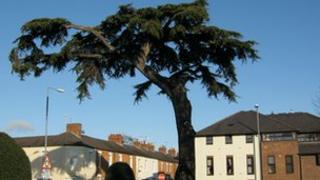 A 200-year-old tree in the garden of William Shakespeare's birthplace in Stratford-upon-Avon has been felled for safety reasons.
The Cedar of Lebanon was not around during the playwright's life, but had become part of the tourist attraction.
The Shakespeare Birthplace Trust said the tree, about 40-50ft (15m) high, was decaying and had become dangerous.
Traffic restrictions were put in place in Guild Street on Wednesday while the tree came down.
Decay inside tree
Gardens manager Nick Jackson said: "We have had two independent surveys done and they're indicating that there's some decay going on inside and at the base.
"Outward appearances are deceptive, it's what's happening inside the tree that's the problem.
"We assume that the actual damage was caused by inappropriate pruning cuts, probably in the 1960s, when tree surgery was not as advanced or as thought of as a technology as it is today."
It was at the house in Henley Street that William Shakespeare grew up and also is thought to have spent the first five years of married life.