Coventry 'boot camp' aims to change lives of 14 'Neets'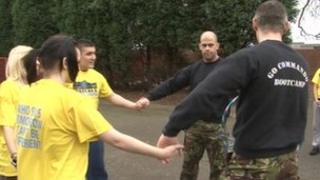 "When you go for a job it seems like everyone is getting them because they are older or they have more qualifications... and just because I'm 16 it doesn't mean I don't want a job."
Those are the words of Jesica McBride, from Coventry, who has been out of work since she left school last year.
The economic downturn of the past few years has seen the number of young people leaving education and struggling to find work grow to an extent whereby the acronym "Neet" has been coined for them - standing for "not in education, employment or training".
The term is even used by the government.
And Miss McBride is one of 14 Coventry "Neets" going on a "boot camp" with the aim of finding them employment.
Housing associations and community organisations have joined together to run the two-week course for the 16-to-18-year-olds.
'Opens your eyes'
While compulsory schemes aimed at getting people back to work have hit the headlines recently, this course is voluntary.
Activities include a physical boot camp and lessons on business pitching and a number of paid apprenticeships and work placements are offered at the end of the course.
Miss McBride, who lives in Hillfields, wants to get into nursing and working with the elderly.
She said her main barrier when finding work and apprenticeships was her lack of experience and she hoped this course will help her to gain employment at the end of it.
She said: "You do stuff like this and it opens your eyes and makes you think about what you really want to do."
According to figures from Lancaster University, about 16% of young people in Coventry aged between 18 and 24 are considered as Neets.
Nearby in the Midlands, in Leicester the figure is less than 14% but Birmingham has one of the highest figures in the country, of more than 20%.
Another study carried out by CSWP - The Careers Guidance Company, which provides careers information, advice and guidance to people throughout Coventry and Warwickshire, showed the number of 16-to-18-years-olds considered Neets fell from 915 in 2010 to 712 in 2011.
But latest indications show the figure is set to rise again.
Miss McBride has never been in trouble with the police, but some of the people on the course are youth offenders.
She continues: "Some people, when they say they're from youth offenders, people expect the worse from them but some of them do actually want to change their life around.
"Some of them here today want to see a difference and it's opening them up and they realise not to do bad things, and hopefully get things out of it."
Paid opportunities
Whitefriars Housing, Midland Heart and Orbit Heart of England have funded the programme and are working with a number of organisations, including West Midlands Fire Service, Coventry City Council and West Midlands Police.
It is based on the boot camp scheme that was run by Whitefriars Housing Group last year and was backed by the government's champion of active, safer communities and member of the House of Lords, Baroness Newlove.
At the end of the boot camp, the people who excel most on the course will be offered paid opportunities.
There are four paid apprenticeships and two six-month paid work placements available.
As part of their activities, the young people will also visit an older persons' sheltered home in Keresley, to share stories with the residents and participate in a decoration project.
Last month, it was reported the proportion of people aged 16 to 18 who were "Neets" rose slightly when the education maintenance allowance scheme was scrapped.
Mick Rawson, chairman of Whitefriars housing group, hopes courses such as these will give the young people some guidance.
He said: "Many youngsters live on our estates and often problems exist with gangs and difficulties that can occur.
"Sometimes that's the fact that they haven't got any guidance or people that they can rely on to give them that sort of guidance."
It is hoped that more camp courses can be held in the future.