Fundraiser Stuart Kettell to spend week held up by balloons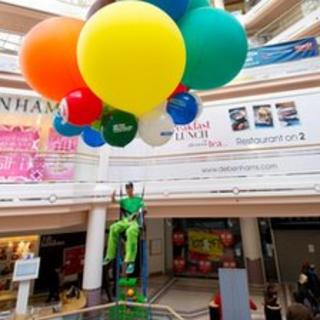 A charity fundraiser is to spend a week being held 14m (46ft) up in the air by helium balloons.
Stuart Kettell, 47, will be in a harness at Coventry's West Orchards Shopping Centre from 12:00 GMT.
He has raised more than £33,000 in annual challenges since 2006 and hopes to provide £10,000 for Macmillan Cancer Support this year.
Mr Kettell will spend 12 hours a day in the harness and use a pulley to descend for toilet breaks, food and drink.
The fundraiser, who estimated 20 balloons would be needed, said he would be level with the third floor.
'Nerve-wracking'
Asked if deflation was a problem, he said: "Over the week we think we might have to add one or two extra balloons to compensate."
Mr Kettell said it was "going to be quite nerve-wracking".
He added: "I haven't done a full run-through because of the cost of the helium.
"There's an information board down outside Debenhams which is where the donation box is and that's got an intercom so people can press that and talk to me."
Last year Mr Kettell ran seven marathons in seven days using a large hamster wheel in a static position in Broadgate in the city centre.
Other challenges have included being suspended in a box 25ft (7.62m) above Broadgate for a week in 2010 and cycling 1,000 miles from Land's End to John O'Groats on a penny farthing bicycle in 2008.
This year's initiative is due to end at 12:00 GMT on 10 March.