London 2012: Olympic football launched in Coventry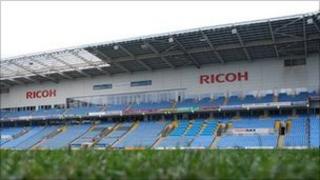 London 2012 Olympic football has been officially launched in Coventry.
The City of Coventry Stadium will host 12 matches during the games, including the women's bronze medal play-off.
Former Olympic athlete Jonathan Edwards attended the event at which the official match ball, The Albert, was revealed.
It was unveiled by Manchester United's Tom Cleverly and Robert Ashcroft, who named it.
The 43-year-old from Derbyshire was chosen after a competition to name the ball involving more than 12,000 suggestions.
The name originates from the cockney rhyming slang term "Albert Hall" to represent "football".
Mr Ashcroft was also presented with the first official London 2012 Olympic ball.
The City of Coventry Stadium will host the official Olympic test event on 23 April, a qualification match for the last place in the men's competition.
The 32,000-seat home of Championship club Coventry City, usually known as the Ricoh Arena, will be renamed during the Olympics, while advertising logos and signs will also be covered up.
Matches will also be held in London, Newcastle, Manchester, Cardiff and Glasgow.
The men's and women's tournaments both start before the Olympic opening ceremony, making football the first action of the 2012 Games.