Coventry player Lee Carsley's works with Learning to Play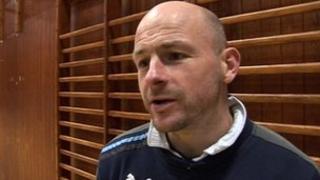 A former Coventry City footballer is working to encourage young people with learning difficulties to get involved in sport.
Former captain Lee Carsley, who retired last season, acts as an ambassador for a sporting charity working with young people who have own's Syndrome.
Learning to Play is a project by Sky Blues in the Community and is benefiting from a Sport Relief grant.
The project is dear to him as his son Connor, 12, has Down's Syndrome.
Sky Blues in the Community is associated with Coventry City Football Club and provides sporting opportunities and workshops.
It also helps the children and young people gain skills to help them with independent living.
The project recently received just under £70,000 from Sport Relief, which will be paid over three and a half years, effectively assuring its immediate future.
A social barrier
Mr Carsley said: "It's good that kids with special needs have got a facility that is provided just for them and they can play with kids of their own ability and age... It's good to see them all together.
"We had been struggling to find something for my son to do after school in terms of physical training, and it's good that he's got involved with this group and can come and play football.
"He's grown up with football being a big part of his life and he didn't have that option to get involved with playing, so it's great that Coventry City have got this project off the ground."
Learning to Play also works with a number of partner organisations, including including Grapevine, a learning disabilities charity based in Coventry; Henley College , and the Down's Syndrome Association.
There are five football sessions a week, but also workshops at the Ricoh Arena that help people lead an independent lifestyle.
Beverley Finch, whose son Richard, attends Learning to Play football sessions, described the project as "absolutely fantastic".
She said: "He certainly looks forward to coming every week, whereas normally he doesn't look forward to doing anything.
"Not being able to talk at nearly 18 is a huge social barrier, so he loves it."
Paul Reynolds, the disability manager for Sky Blues in the Community said: "They get fun and enjoyment, they meet different people from other schools and backgrounds, and some of them aren't bad footballers as well.
"They just want to play football, they're the same as any child as far as football is concerned."