More 'shared space' junctions for Coventry, says council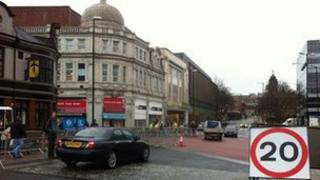 More "shared space" junctions are to be created in Coventry, the city council says.
The four-way junctions do not have traffic lights or kerbs, creating an area where neither pedestrians or vehicles have right of way.
A 71-year-old man died earlier this month after being hit by a bus in a shared space zone in the city centre.
Now, a second junction on Corporation Street and Queen Victoria Road will be introduced, the council said.
The first one was installed at Gosford Street last year.
The Labour-controlled authority said it had received two petitions with a total of nearly 700 signatures against the schemes.
'Rushed' plans
Councillor David Skinner, of Westwood ward, said he was the only councillor who used crutches and he supported the petitions.
He said: "I think it is being rushed and not enough time is being given to think about what could happen to disabled people.
"When you're on crutches you can't walk and look around at the same time - we should complete what's being done and not do any more on the scheme."
In January, the council defended the safety record of the shared space at Gosford Street.
Councillor Lindsley Harvard said there had been one accident in 14 weeks which compared with one every six weeks when the lights were there.
A similar scheme in Ashwood, Kent, has seen a 75% drop in recorded accident injuries in three years, she added.
The council said it hoped the new crossings would be completed by May.
The changes to the traffic system are part of a £7m redevelopment of the city centre ahead of the Olympic Games when Coventry will host football at the Ricoh Arena.