Fight to save rent-hike village hall in Wellesbourne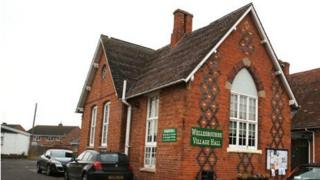 Residents are trying to save a village hall which they fear could see its rent rise from £100 to £8,000 a year.
Chris Cole, of Wellesbourne Village Hall management committee, said the groups which use the Warwickshire hall would not be able to cover the rent.
Meanwhile, businesses said the hall's car park was essential for shoppers.
The hall's trustees said they have a legal duty to make it economically viable but they are talking to the parish council, which wants to buy it.
However, their solicitor said he did not know where the £8,000 figure had come from.
Wellesbourne and Walton Parish Council agreed to "acquire" the building at a recent public meeting.
And a spokesperson for the council said its valuer was set to assess the hall, which was a "great community asset".
'Shops will go'
Mr Cole, management committee chairman, said there were more than 170 people at the meeting, such was the strength of feeling over retaining it.
He said for many years, a peppercorn rent of £100 had been paid.
However, Walton Estate, which took over the hall after the death of its owner Sir Richard Hamilton in 2001, has to increase the rent and Mr Cole said he had originally been informed it could rise to £8,000.
Mr Cole said the hall's regular users, such as children's dance classes and charities, could not afford to see their own rates double.
Meanwhile, businesses said the car park spaces were vital.
Butcher Keith Russell said: "If the car park disappears there's nowhere to park for all the shoppers and shops will disappear."
Solicitor James Johnston, who represents the Walton Estate, said the "nominal" rent of £100 could no longer be sustained, and the trustees did have a duty to get a return from the property.
He said the solution "lies with the parish council" which is in discussion with the trust.
"The trustee is very keen that the community should be able to continue using the hall in a way which doesn't cause loss to the trust," he said.
"So it is a matter now of entering into negotiations to find the best outcome which would involve some kind of rent being paid or else the sale of the property to the council."