Weddington homes row: Campaigners vow to protect land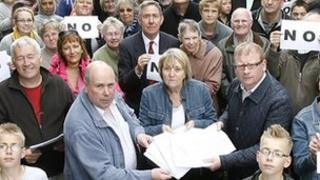 Campaigners in north Warwickshire say they will fight plans to build more than 300 homes - by turning the area into a village green.
Members of Save Weddington: Oppose the Residential Development (Sword) said the area in Nuneaton is not suitable.
Planning permission was granted on Wednesday after a public inquiry.
John Brookes, from Sword, said: "There are some areas in which we can challenge the outcome of the inquiry."
He said they have already had a positive response from residents in the area to the idea of getting the land declared a village green by the council.
Mr Brookes said: "A certain space can be registered as a village green if we can prove it's been used for recreation without hindrance for the last 20 years.
"There's a bridleway across it and access gates, people living around want to protect it.
"If we can register it, it is illegal to tamper with the land even if planning permission has been granted."
Developers Hallam Land Management propose to build 326 homes on the site.
An application for the development on green space in Weddington, Nuneaton, was narrowly rejected by Nuneaton and Bedworth Borough Council last year.
Mr Brookes said Sword plans to apply to the council for the space to be declared a village green next month.