Weddington new homes row: Planning permission granted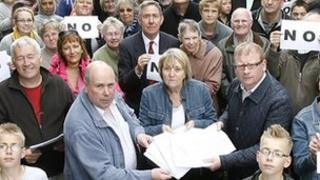 Planning permission has been granted to build more than 300 homes in an area of north Warwickshire.
An application for the development on green space in Weddington, Nuneaton, was narrowly rejected by Nuneaton and Bedworth Borough Council last year.
But a government-appointed inspector has now said housing could be considered following a public inquiry, according to the council.
Campaigners maintain the area is not suitable for the development.
Developers Hallam Land Management proposed to build 326 homes on the site.
'Free-for-all'
A statement from the firm read: "At the appeal inquiry, all sides had their say in front of the independent planning inspector.
"The subsequent approval is not based along any party political lines, rather it is based on robust planning grounds. It is about housing need."
Councillor Danny Aldington, from the Labour-led authority, said it would "work hard to get a development which is best for the borough of Nuneaton and Bedworth".
Alan Shrubliani, who chairs campaign group Save Weddington: Oppose the Residential Development (Sword), said he feared the decision would start a precedent.
Mr Shrubliani said: "There are lots of open green-field sites across the borough so the inspector's decision basically means that it's a free-for-all for developers.
"I think if you look at a map and where Weddington is, right on the edge of town away from major public transport networks, I don't think you would conclude that it's sustainable."