Coventry Charterhouse sale 'in doubt'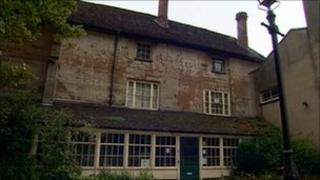 Campaigners fighting to save a 14th Century building in Coventry claim plans to sell it off have been blocked over an issue of ownership.
City College said it wished to sell the Charterhouse, off London Road, after assuming control of it.
But local residents say a 1970 scheme suggests the college is just trustees along with the city council and public.
The college declined to comment. Estate agents Shortland Horne said they were no longer selling the property.
The college took control of Charterhouse a number of years ago, but no longer have a use for it.
In September last year, a spokesman for the college said they were "going to go out to the market", adding they had an "obligation as a public body to achieve best value".
After speaking to lawyers, socialist city councillor, Dave Nellist, said he was confident that the Charterhouse would remain in "public use" because it was part of the Wyley Public Park and Museum scheme which dated back to March 1970.
He also criticised the fact that the public had not been able to decide on its sale in the first place.
'Legal ambiguity'
He said: "The fact it went through in secret and we didn't know until the signs went up meant that we had to do a lot of last-minute rushing around and pressure. But working with the local residents, it's been successful."
Dave Griffiths, chair of Charterhouse Residents' Association, said he was not happy at how the property was "passed over out of public control".
He said: "It just looked to us like legalised robbery was taking place and if we hadn't kicked up a fuss it might have done."
Labour councillor Jim O'Boyle said there appeared to be some "legal ambiguity about what could and couldn't be done".
"I feel fairly confident that the Charterhouse will be maintained in Coventry for Coventry people," Mr O'Boyle continued.
"It's been around for hundreds and hundreds of years and is a prized asset."