London 2012: Leamington choreographer juggling two Olympic projects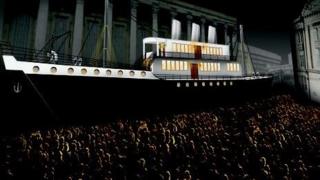 With the London 2012 Olympic and Paralympic Games just months away, athletes are busy training and taking part in qualifier competitions.
However, the people behind the Cultural Olympiad festival are also busy adding final touches to their Olympic moment.
Kevin Finnan, from Leamington Spa, is working on a Cultural Olympiad performance in Birmingham, but has also been given another very important role.
He has been asked to choreograph the opening ceremony for the Paralympics.
Mr Finnan is one of the founding and artistic directors of Motionhouse, a dance theatre company, based in Leamington Spa, Warwickshire.
He was contacted at Christmas and has described the call, which he said was out of the blue, as "equally thrilling and terrifying".
Mr Finnan has been been sworn to secrecy about what might be planned for the opening ceremony, but he said he believed he was approached because of his experience with working on large outdoor "spectacle" performances, and with people of all kinds of abilities.
Motionhouse has been working on a free performance to open the 2012 Cultural Olympad, which lasts for 12 weeks, in the West Midlands.
The Voyage will involve the installation of half a ship in Victoria Square, Birmingham, from 21 to 24 June and will explore the themes of departures, arrivals, hopes, fears, expectations and disappointments.
'Totally immersive spectacle'
Motionhouse and the Australian theatre company, Legs on the Wall, have been working for at least 18 months on the project, which is also being produced by the Birmingham Hippodrome.
Mr Finnan spoke enthusiastically about the idea, saying: "It's the year of the Olympics and people are travelling all over the world, all travelling in hope to peruse their dreams."
"The whole thing with passengers on the boat, it will be like a live film with people arriving with bags and suitcases, brass bands, people boarding a gang plank.
"Tickertape will come down and the boat will sail away on a journey. There will be interaction with the audience, it will be a totally immersive spectacle."
"I thought about people going to and from Birmingham to peruse their dreams and we wanted to reflect that.
"We thought it would be absolutely fantastic to create this ship in the centre of a city that has contributed so much all over the world, in the centre of the country."
Alongside performers from Motionhouse and Legs on the Wall, there will be 140 people from various local dancing groups, musicians from the Birmingham Conservatoire and a gospel choir.
But when will Mr Finnan get time to choreograph a big opening ceremony that will be viewed by millions around the world?
'Jaw-dropping performances'
Talking about his other role as choreographer for the opening of the Paralympic Games, he said: "I've been working on it for weeks now and we're just about to go into auditions this week, which are held in London.
"It's really important for the artistic directors of the festival that the ceremony reflects the fact that it's the Paralympics, so we have some incredible talented disabled performers and volunteers, it's going to be quite a spectacle.
"You look at their abilities, whether they're able or disabled, they all have their own special abilities and you find those and you bring them out. You get fantastic things and I think that you'll see some jaw-dropping performances in this event."
Mr Finnan said he would see the final performance of The Voyage in Birmingham on the Sunday, before devoting himself full-time to the Paraylmpics from the Monday.
He added: "The fact that you make a performance that will be seen by people all around the world, for any artist, I can't image a bigger thrill.
"So all of that coming together leaves you in awe."