Warwick Hospital visitors' parking 'disrupts firms'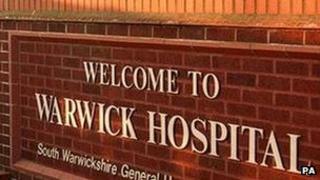 Visitors to Warwick Hospital are disrupting nearby businesses by parking on the pavement instead of paying to park at the site, it is claimed.
Lauren Young, 4 Seasons Blinds owner, said customers had not been able to get in as entrances had been blocked.
Warwick Hospital deputy chief executive Jayne Blacklay asked visitors to ensure "they do not park in a way that obstructs access" to firms and homes.
She said the hospital sympathised "with the complaint".
'Sign on cars'
The director of 4 Seasons Blinds, which is based on Millers Road, said: "We get quite a lot of vehicles left on our property or outside on the road, but that blocks our entrances."
Josh Bennett, who manufactures electronics, said he did expect the public, nurses and doctors "to park around here, but it is a problem from time to time".
"We do get them parking in our car park and blocking it," he said.
"We put a sign on their cars normally and we don't have any repeat offenders."
Ms Blacklay said the hospital would encourage patients and visitors to use the facilities on the site "in order to reduce the disruption to the local community".
She said: "The car park charges cover the cost of the maintenance of the site, as well as providing security (security guards and CCTV) so that patients and visitors can feel confident to leave their vehicles on-site."
The trust was continuing to look at ways to improve car parking facilities and recently extended visiting hours meant there was less pressure for parking spaces in short periods, she added.