Artist Jill Swarbrick-Banks begins Coventry Cathedral residency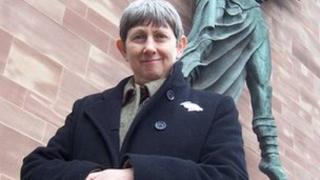 Coventry Cathedral has commissioned an artist in residence to record events planned to mark its 50th anniversary.
Jill Swarbrick-Banks, a fine art painter from the city, will be in residency for a year.
One of her first jobs will be to paint a portrait of the Dean of Coventry, the Very Reverend John Irvine, who leaves in the summer.
Ms Swarbrick-Banks said she aimed to capture the "life and soul of the living cathedral".
She said: "I will be using paint, pastel, pen and ink, pencil and photography to capture not only the many events and activities happening over the year, but also those that work to bring the cathedral to life for its many visitors."
Anniversary events include concerts, a special jubilee service and a visit from a senior member of the Royal Family.