Coventry Cathedral reveals jubilee celebration plans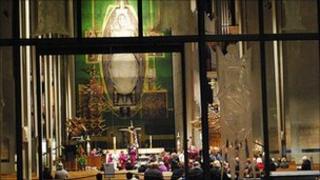 Plans to mark Coventry Cathedral's 50th anniversary have been revealed.
Events, which run until November, will include concerts, a special jubilee service and a visit from a senior member of the Royal Family.
Dean of Coventry The Reverend John Irvine, said it would be "a time of celebration".
The decision to build the modern cathedral came after much of St Michael's was destroyed by incendiary bombs during World War II.
The foundation stone was laid by The Queen on 23 March 1956, who returned in 1962 for its consecration.
Cathedral staff said the royal visit would take place on 25 May and would include a service and visit from the Archbishop of Canterbury.
A flower festival and art exhibition will also be held as part of the celebrations.