Memories of working at Coventry Cathedral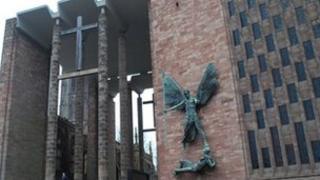 To Gerda Ledger, an 82-year-old woman who was raised in Germany but who has lived in Coventry for 62 years, the city's cathedral is a symbol of peace and reconciliation.
"I was bombed out eight times in Germany, so we were more or less the same. I always used to think what a waste of life."
The decision to build the modern cathedral came immediately after much of St Michael's had been destroyed by incendiary bombs during World War II.
Later this year it will celebrate its 50th anniversary.
The foundation stone was laid by the Queen on 23 March 1956, who returned in 1962 for its consecration.
Mrs Ledger was there: "I stood on an orange box to see the Queen. We're royalists because we come from the House of Hanover."
She had come to live in Coventry with her husband Gerald, a British soldier she had met while he was stationed in Germany in 1948.
'Friendly and spiritual'
She worked in the coffee shop at the cathedral for a three-year period during the 1980s, backing up her claim that "we should live together and work together".
"We used to have a lot of canons and pastors come from Germany for meetings so I always found it very interesting."
The 82-year-old admits the cathedral is well respected back home in her native country and that it still evokes strong emotions.
Beryl Mackinder, from Whitley in the city, knows Mrs Ledger through the War Widows' Association's bi-monthly meetings in Coventry's council house - a stone's throw from the cathedral.
Like her friend, Mrs Mackinder also worked in the building on the information desk.
"The cathedral is a very friendly and spiritual place. I loved working there and enjoyed it for 13 and a half years.
"Most people came out saying what a wonderful place it was. The different nationalities that we met and chatted with was absolutely marvellous and I think the Americans loved it the best."
Mrs Mackinder moved to the city about 30 years ago and knew all about the cathedral before she arrived.
"I'd heard a lot about it and to start with I couldn't make much of it because it did seem very big. But I love the open space. [It is] light, airy and you can see everybody. It's a different thing altogether to the traditional church.
"But now it's not one of the most modern because it's been there so many years.
"Churches from all over the country were very interested. I can remember my sister coming with her church on a day's outing... to see the cathedral and they were queueing almost round the cathedral to come in and go and have a look at it."
BBC Coventry & Warwickshire is gathering your memories of Coventry cathedral ready to celebrate its 50th jubilee. Did you see the spire being lifted on top? Were you at the 1962 consecration? Did you see Tangerine Dream live there in the 70s? Or the Pope on his 1982 visit to the city? Perhaps you were then when Keith Chegwin brought kids' TV to the ruins, together with a performance from King?