Coventry University Ethical Hacking lab combats cyber crime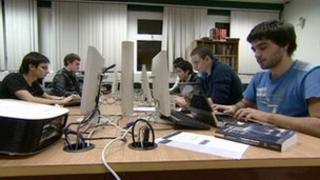 A department at Coventry University is hoping to turn the tables on computer criminals.
Cybercrime has been on the rise in recent years, targeting big corporations and individual home computer users.
The £37,000 Ethical Hacking Lab simulates malicious attacks on systems to find weaknesses in internet safety.
Senior lecturer Brian Moore said he hoped to discover solutions to hacking attacks.
"As technology evolves, so do the opportunities for cybercrime, so it is necessary to research and investigate the applications, operating systems and networking devices in the same ways that a criminal would so we can mitigate such threats," he said.
Defending the approach, he added: "If we take as an analogy the role of crime prevention officers they will need to understand the methods that criminals use and the techniques involved."
The unit was set up in October with support from internet security company Nettitude, based in Leamington Spa.
The company provided £17,000 of equipment and works alongside the department on a number of projects.
About 40 students are currently based at the lab.
Mr Moore said there were plans to share information with local small and medium-sized enterprises (SMEs).
Mr Moore said the department had particularly noticed an increase in the use of social networking by hackers "to propagate malicious code in the guise of 'useful' applications".
Tuesday marks the 2012 Safer Internet Day, an annual event designed to encourage people to use internet technology, including mobile devices, more responsibly.
This year it coincides with the week-long BBC Share Take Care campaign, in partnership with the UK Safer Internet Centre, which is being featured across BBC television, radio and websites to raise awareness of issues surrounding safeguarding reputation online.