London 2012: Olympic bosses check Coventry stadium progress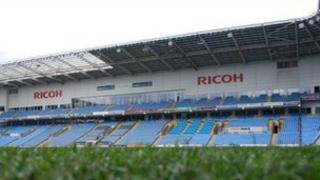 Olympic organisers have visited Coventry's Ricoh Arena to check on preparations ahead of the 2012 Games.
The ground, which will be renamed the City of Coventry Stadium, will host 12 Olympic football matches.
Delegates from organising committee Locog and the International Olympic Committee (IOC) also watched a women's football demonstration.
Locog recently tested security screening procedures at the stadium, which it said proved very successful.
The arena's chief executive Daniel Gidney said it had been complicated to work with the different groups involved, but he was excited that the stadium was a part of the games.
Test event
"This is the second biggest football tournament in the world and it's in the UK and it's in Coventry," he added.
Matches will also be held in Newcastle, Manchester, Cardiff and Glasgow.
The test event for the tournament is due to be held in Coventry on 23 April.
Senegal will play the champion of the Asia group, with the winner awarded the final place in the Olympics.
Mr Gidney said work was also progressing well to make sure all advertising boards would be covered up during the games.
As part of the deal the 32,000-seater stadium will be allowed to display only official Olympic sponsors.
Road signs approaching the arena will also be replaced during the tournament.