London 2012: Ricoh Arena to cover up signs for Olympics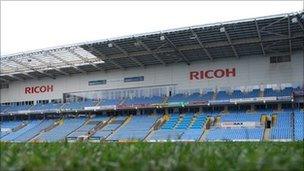 A stadium hosting Olympic events has said it faces a "mammoth task" covering up all trace of its sponsors name before the games begin.
The Ricoh Arena in Coventry is hosting Olympic football games and can only display the official Olympic sponsors.
Even road signs using the stadium's name will have to be covered up.
Anthony Mundy, the facilities manager, said: "Every sign that you see in the stadium will be covered up - it's a mammoth task."
Everything from the main stadium sign down to logos on the hand dryers will have to be hidden, he said.
And road signs to the arena will be replaced with new Olympic ones.
The cost of covering up and changing the signs will be split between the stadium's operator and the Olympic organising committee.
Mr Mundy said there would be about 2,000 staff working in the stadium during Olympic events, twice the normal number.
"Everyone coming into the stadium will be subject to a full pat down, which we don't normally do, so that needs a lot of security personnel to do that," he said.
Some of the staff will be volunteers chosen from the ambassadors programme run by Coventry City Council.
Related Internet Links
The BBC is not responsible for the content of external sites.