Firefighter warehouse deaths: Warwickshire council admits safety lapse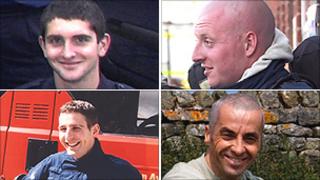 A council has pleaded guilty to a health and safety charge over the deaths of four firefighters killed in a warehouse blaze in Warwickshire.
The bodies of Ashley Stephens, 20, John Averis, 27, and Darren Yates-Badley, 24, were found in the burnt factory, at Atherstone-on-Stour, in November 2007.
A fourth fireman, Ian Reid, 44, died later in hospital.
At Wolverhampton Crown Court, Warwickshire County Council admitted failing to ensure safety at work.
It contravened section 2 of the Health and Safety at Work Act 1974.
'Limited plea'
In a statement from the council, lawyer Chris Green said: "Warwickshire County Council has today entered a guilty plea to the charge it faces in connection to the Atherstone fire.
"That plea is entered on a limited basis and we should make it clear that we do not accept many of the allegations made by the prosecution.
"We believe it's very important that we say nothing that in any way prejudices the legal proceedings about these tragic events.
"So we will not be saying anything further except that our thoughts today are with the families and friends of all those affected by the Atherstone fire just over four years ago."
Three fire service managers from Warwickshire have also been charged in connection with the deaths.
Station manager Timothy Woodward, 51, and watch managers Paul Simmons, 50, and Adrian Ashley, 45, are charged with manslaughter by gross negligence.
They have yet to enter any plea and appeared in court earlier. Their case was adjourned to a date yet to be set.
The large fire started at the plant in Atherstone Industrial Estate, on the site of a disused airfield, in the early evening of 2 November 2007.
Body search
The site was owned by Wealmoor Atherstone Ltd, which employed 300 workers at the plant. None of its staff were trapped in the fire.
Up to 100 firefighters and five ambulance crews were sent to the blaze and three Warwickshire Fire and Rescue Service crew members were inside the building when the roof collapsed.
The fire continued for more than 12 hours and the men were reported missing, presumed dead.
A search began for their bodies on 4 November but strong winds made the gutted warehouse frame unstable and hampered the search efforts.
All three bodies were recovered by 6 November.