Charities fight increase in food poverty in Coventry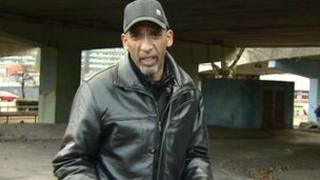 Charities in Coventry are urging local supermarkets for more donations as they try to keep pace with an increase in food poverty.
They say that the number of people queuing for supplies has doubled over the last six months, and that one food bank even ran out of food.
"Things are steadily getting worse," said charity worker Kervin Julien.
Local newspaper, the Coventry Telegraph, has started a Waste Not Want Not campaign to highlight the issue.
"Because of the recession, many are having to make stark choices about choosing between a nutritious meal and other basics in life," said Mr Julien, who helps to organise a soup kitchen every Sunday.
"People are embarrassed to be asking for food. No-one wants to admit that they are so badly off.
"Before it was mainly homeless, single people, but now we are seeing lots of families.
"Sometimes we have ran out of food in the kitchen and we've had to rip open the food parcels that people were going to take home with them.
"Some companies have responded to the Waste Not Want Not campaign, but we need a lot more to get involved."
Gavin Kibble, who is manager of another food bank project in Coventry, said that the wider public was unaware of what was happening and described those people in food poverty as the "hidden hungry".
"Since we started [a year ago] we've fed over 4,400 people already, half of those are children.
"In this city, we know that 20% of the population - that's about 59,000 - are living on the breadline.
"That is after paying for fuel, paying for food and everything else, they have nothing left."
Some charities and academics have suggested that the government is not fully aware of the extent of food poverty in this country and could do more to help.
'Cheap food'
"My fear is that it gets left to food banks," said food poverty expert from the University of Warwick, Dr Elizabeth Dowler.
"Now I'm not against what you do in giving out free food to people who need it. People are hungry, they need to be fed.
"But if that becomes the answer then that is a total inadequate sticking plaster that isn't going to solve the problem.
"If you're forced to just stave off hunger by eating essentially quite cheap food, that's how you end up with cancer and heart disease and strokes and diabetes."