Belfry golf venue put up for sale by Irish owner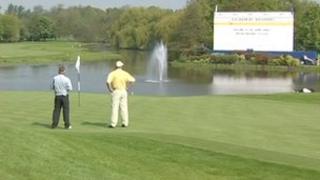 Golf and leisure venue The Belfry has been put up for sale.
The 550-acre resort in Warwickshire is regarded as the spiritual home of the Ryder Cup, a spokesman for the company behind the sale said.
The venue is currently owned by Irish-based businessman Sean Quinn Junior and is expected to attract significant interest from Asia.
Four Ryder Cup tournaments have been held there and it is also the headquarters for the PGA.
The resort includes a 324-bedroom hotel and three golf courses as well as extensive corporate conference facilities, property agent Jones Lang LaSalle Hotels said.
Seve tribute
Nigel Gray, managing director of The Belfry, said: "New owners are being sought for The Belfry and we are extremely confident this will prove to be successful."
The golf club, named England's Leading Golf Resort at last year's World Travel Awards, was the scene of one of golfing legend Seve Ballesteros's most famous shots.
In 1978, in the Hennessey Cup, Ballesteros became the first player to drive the 311 yards over water and trees to the The Brabazon Course's 10th tee.
The Spaniard represented Europe at three Ryder Cup contests held at the venue in 1985, 1989 and 1993.
The club's flags were lowered and a minute's silence observed by staff and golfers as his funeral was held in Spain in May last year.
Mr Gray added that the venue was a "highly-profitable business" which had seen a rise last year on 2010 figures.
The Quinn group bought it in 2005 for £186m.