Polar explorer Mark Wood reaches South Pole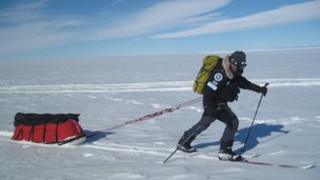 A Coventry man attempting to become the first person to ski solo to both poles has said he "feels good" after reaching the first of his goals.
Mark Wood, 45, reached the South Pole after skiing 612 miles in 50 days.
The former fireman has spent his birthday, Christmas and New Year's Eve alone.
Mr Wood said: "To be here is just incredible, absolutely amazing, even though I know I'm only halfway through the expedition."
He will be picked up by an aircraft and flown to a base station at Hercules inlet, before flying on to South America and then Canada, before starting the Arctic leg of his challenge.
He will have about three weeks to recover and rebuild his body fat before attempting to cover about 500 miles (805km) of ice to the North Pole.
If successful, Mr Wood will become the first person to ski alone and unaided across both the Arctic and Antarctica to reach the geographic poles.
Mr Wood has taken on the challenge to raise awareness of climate change.
Rather than raising money, he is hoping to persuade individuals and businesses to cut carbon emissions.
Working with the DoNation website, Mr Wood has set a target to save 100,000kg of carbon dioxide through pledges.
So far about 13,000kg has been pledged, the equivalent of about 80 flights from London to Glasgow.