Polar explorer Mark Wood had 'difficult Christmas'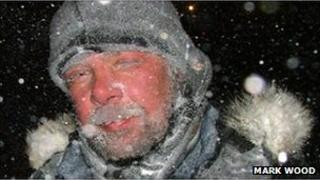 A Coventry man attempting to become the first person to ski solo to both the north and south poles has said Christmas has been difficult.
Mark Wood, 45, is 40 days into the 115-day challenge to raise awareness of climate change, having started in Antarctica in November.
He is about 160 miles (257km) from the geographic south pole.
In the last week temperatures have plunged to -27C and Mr Wood is believed to have lost a lot of weight.
In an online blog Mr Wood said he was "cold to his bones", but remained on schedule.
A sled being dragged by the explorer for the last 520 miles (837km) has also been getting steadily lighter as provisions have been consumed. He is consuming about 5,500 calories a day.
He hopes to reach the US Antarctic station at the geographic south pole in about 10 days' time.
Once there he will be picked up by an aircraft and flown to a base station at Hercules inlet, before flying on to South Africa and then Canada, before starting the Arctic leg of his challenge.
The Coventry-based explorer will have about three weeks to recover and rebuild his body fat before attempting to cover about 500 miles (805km) of ice to the north pole.
If successful, Mr Wood will become the first person to ski alone and unaided across both the Arctic and Antarctica to reach the geographic poles.
Climate change
His partner Lizzie Page, 37, said she managed to hold a two-minute conversation with him via satellite phone on Christmas Day.
"Christmas is difficult because you want to be with your family," she said.
"We managed to be as cheerful as we could and enjoy the day as much as you can on your own.
"I worry, but I also know he's very good at what he does."
Mr Wood also celebrated his birthday alone earlier this month.
Mr Wood has taken on the challenge to raise awareness of climate change.
Rather than raising money, he is hoping to persuade individuals and businesses to cut carbon emissions.
Working with the DoNation website, Mr Wood has set a target to save 100,000kg of carbon dioxide through pledges.
So far about 13,000kg has been pledged, the equivalent of about 80 flights from London to Glasgow.