West Midlands fire service trials smaller response cars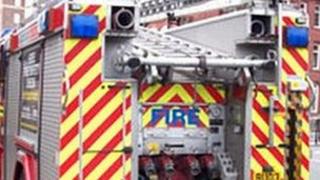 Parts of the West Midlands are to trial sending smaller fire engines to low-level incidents in a bid to save money.
The specially fitted Range Rovers, with a crew of three, will attend incidents such as rubbish and grass fires, and car fires on open land.
The scheme by West Midlands Fire and Rescue Authority will run in Coventry, Tipton and Dudley from early 2012.
But the Fire Brigades Union (FBU) said it was concerned the move would affect jobs and reduce safety.
Rose Jones, from the FBU, said: "Our concern is for the public's safety and also for the firefighters' safety. It won't be carrying anything that can be used to put out a house fire and it will not have the amount of people that you would need."
Funding reductions
The vehicles will be kitted out with limited amounts of water, a rescue kit and cutting equipment.
The cost to send a normal-sized fire engine to an average fire is about £330. When fully-staffed, it takes five people.
West Midlands Fire Service told the BBC that the procurement costs for the smaller vehicles were "significantly lower", as were the annual running costs.
Sandwell Councillor John Edwards, chairman of the West Midlands Fire and Rescue Authority, said: "Around 38% of our budget is being lost at a time when we can't replace that money from council tax because of the [council tax] freeze, so we're in a really difficult situation financially.
"We're sending smaller fire engines to smaller fires in order to keep traditional fire engines available respond to larger fires."
Earlier this year the authority trialled Range Rovers to respond to false alarm calls, which "produced a cost saving" and traditional fire engines became "more readily available".