Ex-chairman Ken Dulieu quits Coventry City football club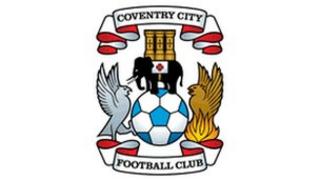 Coventry City Football Club has announced former chairman Ken Dulieu has resigned from his position as head of football operations.
Mr Dulieu took up the role earlier this month but angered supporters by sitting with manager Andy Thorn on the bench for a home match.
He is the third board member to leave in the space of three months.
Many fans would like to see the back of owners Sisu Capital Limited too, with some displaying banners at games.
'Focus his energies'
A club statement said: "Ken Dulieu has resigned as Coventry City FC's head of football operations, a decision which has been unanimously and immediately accepted by the club's board.
"Mr Dulieu has left his post with immediate effect and the board will now seek a new director of football.
"Two board moves have also been announced by Coventry City FC.
"John Clarke has decided to focus his energies in future as an independent director on one board, CCFC (Holdings) Ltd. He remains as deputy chairman and his role is unchanged.
"Tim Fisher has replaced John Clarke on the board of Coventry City Football Club Limited representing the major shareholder."
Mr Fisher added: "This move of directors is simply for administrative efficiency.
"The board of the football club should include a representative of the owner and the deputy chairman as an independent director should be on the holdings board."
'Utter disgrace'
Mr Dulieu follows ex-chief executive Paul Clouting and former director Leonard Brody out of the club. All three were unveiled at a press conference in March of this year.
The club is struggling both on and off the pitch and does not own its home ground, the Ricoh Arena.
Current owners Sisu saved the club from administration in 2007 but another former chairman, Labour MP Geoffrey Robinson, has again called for them to depart.
Mr Robinson said: "It's an utter disgrace. It's no wonder we're bottom of the table and facing relegation.
"The Sisu people should hang their heads in shame, put the club on the market and find a new owner for it.
"They've sold more players than they've bought and they've taken more out of the club than they put in it.
"The club should own the stadium but it's not the most important thing. The most important thing is to use the stadium on terms the club can afford."