Herbert Art Gallery & Museum welcomes its millionth visitor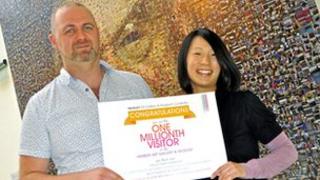 The Herbert Art Gallery & Museum in Coventry has welcomed its millionth visitor since reopening just over three years ago.
Amelia Mansell, from Stratford upon Avon, received a gift voucher for the museum shop, a family membership and a framed copy of a special artwork which honours the museum's founder.
"It was obviously my lucky day," said Ms Mansell.
More than 300,000 people visited the museum last year, making it the sixth most popular free attraction in the West Midlands.
Ludo Keston, the museum's chief executive, said: "It's been something we've been looking forward to the last few months.
"We are delighted to have welcomed so many visitors during the three years that we have been operating the Herbert Art Gallery & Museum.
"With the investment, support and vision of Coventry City Council, Arts Council England and numerous other partners we have managed to touch the lives of nearly one million visitors in an inspiring, thought provoking and lasting way whilst becoming an integral part of the Coventry landscape.
"As well as people coming into the galleries, we're working alongside schools and more than 40,000 people use our craft activities during the school holidays."
'Connecting with families'
Ms Mansell had brought her daughter to one of the museum's play sessions for young children when she became the milestone visitor on Wedmesday.
She said: "I was shocked and delighted. It was my first visit to the Herbert Museum. It was obviously my lucky day.
"We like to take our children to museums and the Herbert came across very family friendly.
"I think that the practical hands-on nature of events is a great way to get children interested in museums."
The museum's head of communications, Jamie Perry, said: "Within any arts organisation... if you want to really engage with people and make a lasting difference, then connecting with families and young people is key.
"In the last year, we've engaged with 98% of the schools in Coventry... and the children are inspired by it. It's a different way of learning something.
"And in turn, you'll see those children at the weekend, dragging their mums and dads through the door who previously might not have been to a museum."
Special artwork
Mr Perry said the museum also made it a priority to work with local artists. A current exhibition sees the return of George Shaw, whose paintings of the Tile Hill housing estate, where he grew up in Coventry, resulted in him being a Turner Prize nominee this year.
"But another part of our success is that we've brought summer exhibitions from the national galleries, like the British Museum, the V&A, and Natural History Museum - things that people in Coventry previously had to go to London to see.
"And we've got a really talented team here who work behind the scenes to make these exhibitions mean something to local people.
"Museums of our size really shouldn't be winning the Guardian's Best Kids Museum in the Country and they shouldn't be a finalist for the Arts Fund prize."
To mark the million visitor milestone, Mr Perry has helped to commission a special artwork. The museum has compiled pictures taken from exhibitions, events and workshops over the last three years to create a digital mosaic of the museum's founder Sir Alfred Herbert.
"I thought it was a fitting tribute. He had a vision that his city needed a museum.
"I really feel that in the last three years, we've delivered what his vision was: a real people's museum, something to shout about all the good things about Coventry, to champion regional pride."