Warwick man adopts Romanian stray dog as family pet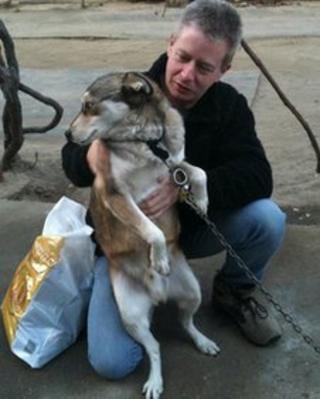 A Warwickshire man has managed to bring a stray dog he befriended in Romania back to this country.
John Bagley, 45, had to get a pet passport to bring the dog, called Husky, back to his home in Warwick.
He also had to get the stray released from a pound where he had been put by Romanian dog wardens.
Mr Bagley said: "I could have gone down to the local dogs trust and picked one, but the dog that I've got has almost picked me."
Mr Bagley works for a firm that installs paint spraying equipment for car manufacturers.
He first came across Husky when he spent three months working in Romania early in 2010.
"In winter it drops to minus 20 degrees and I was on nights so I was able to let him spend the night in our office - it was nice and warm and I used to feed him," he said.
Mr Bagley then spent six months back in England before returning to Romania.
"I walked back on site and he came up to me and started fussing like I'd never been away," he said.
Pet passport
He had already thought about adopting the stray as a family pet when the dog was caught by government dog wardens.
"I found out which pound he was taken to and I took him back to my apartment and kept him there.
"Then I took him to the vets where he had his rabies shot and I got him microchipped and all the other things you have to do to bring a dog back to the UK," he said.
To get a pet passport Husky had to have a blood test and then spend six months in quarantine.
Once the six months had passed Mr Bagley was able to make the journey back to Romania by plane and car to pick Husky up.
"It's cost me a bit of money do it but once I've said I'm going to do something I go through with it and do it whatever," he said.