Funeral for RAF Red Arrows pilot Flt Lt Sean Cunningham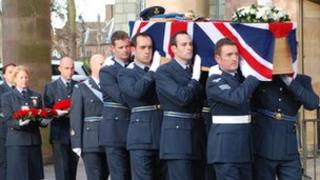 Hundreds of people turned out for the funeral of Red Arrows pilot Flt Lt Sean Cunningham at Coventry Cathedral.
Flt Lt Cunningham, 35, was killed when he was ejected from his Hawk T1 aircraft while on the runway at RAF Scampton in Lincolnshire on 8 November.
An independent inquiry is being carried out to establish the circumstances of the incident.
It followed the death in August of Flt Lt Jon Egging in a crash near Bournemouth.
Squadron Leader Jim Turner, the officer commanding the RAF aerobatic team, addressed about 800 mourners, including fellow RAF colleagues and members of the public.
He told them that Flt Lt Cunningham had fulfilled his dream of being selected to fly with the Red Arrows in 2010 after flying operational sorties in Iraq.
'Buzzing with excitement'
Sqn Ldr Turner said he had only known "fun-loving" Flt Lt Cunningham for four weeks but "took to him instantly."
He said: "On that fateful day, Sean was quite literally buzzing with excitement at the prospect of flying to RAF Valley for an overnight stay with the rest of his formation of five aircraft... to do some great flying and catch up with old friends.
"He had returned to the team from a period of leave and had taken up his position as Red Five, responsible for training new team members."
Sqn Ldr Turner added: "Sean was a man who accomplished great things in his 35 years.
"Flying with the Red Arrows represented for Sean, as it does for all of us lucky enough to tread this hallowed path, the pinnacle of his flying career.
He described Flt Lt Cunningham as "charming, professional and dedicated" and said he always had a smile on his face.
The Reverend Colin Weir (Squadron Leader), from RAF Cosford, read a tribute on behalf of the family, which described him as a "wonderful brother" and a "perfect son" of whom they were immensely proud.
'Tragic and sudden'
His family thanked people from around the world for their messages of support and sympathy.
His father Jim, mother Monika, and sister Nicolette said: "Sean meant the absolute world to us and the void that he leaves in our midst is huge. We take comfort from the fact that during his short life he had achieved everything he ever wanted.
"Even so, it is still incredibly difficult to come to terms with the tragic and sudden loss of Sean at such a young age. We would like to thank everybody who has taken the time to share with us their memories of Sean."
"Like us, The Reds have lost a member of their family and they gone out of their way to embrace us as we mourn Sean together."
The ceremony was also attended by the television presenter Carol Vorderman and the actor and impressionist John Culshaw.
Ms Vorderman, who was a friend of Flt Lt Cunningham and a supporter of the Red Arrows, said: "I think the service was very moving and it reflected Sean's life, and it would be wonderful for his family and all close friends... The service was so special today."
Mr Culshaw, who has appeared at Red Arrows guest nights, spoke of their "strong team" and had met Flt Lt Cunningham on several occasions.
Just weeks before he died, Flt Lt Cunningham returned to Ernsford Grange to speak to the pupils about his career and remembered how he "watched the Reds" at their age.
A private family cremation followed the funeral.
A book of condolence has also been opened at RAF Scampton and via the Red Arrows website.
Iraq duty
Last month, Red Arrows followers gathered near RAF Waddington to lay flowers in memory of the pilot.
Flt Lt Cunningham joined the Red Arrows in September 2010 and had flown Red 3 through the 2011 display season.
He was educated at Ernesford Grange School in Coventry after moving to the UK from South Africa, aged nine.
He qualified for his private pilot licence at the age of 17 before studying at Nottingham Trent University.
In 2000 he joined the RAF and went on to fly Tornado GR4s with the 617 Dambusters Squadron.
He took part in several operational tours of Iraq before qualifying as a tactics and pilot instructor.