Coventry staff strike over public sector pensions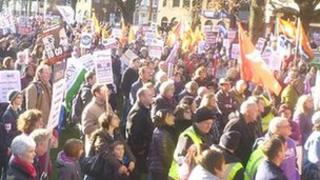 Unions say up to 2,500 public sector workers have joined a pensions rally in Coventry.
The rally was part of a national day of action with staff, including teachers, striking over public pension plans.
More than 270 schools across Coventry and Warwickshire were closed or partially closed as part of a day of public sector strikes.
The government has said change is needed because people are living longer.
BBC reporter Andrew Dawkins said hundreds of people had gathered close to the cathedral, before taking part in a march to the council house.
Robert Lowries, 63, a teacher in Warwickshire, two of whose children are also teachers, was among the marchers.
He said of the government's plans: "We think it's atrocious what's going on, particularly in the context of the difficulty of recruiting staff these days.
"It's degrading the attractiveness of the profession."
Coventry school caretaker Noel Askew, 50, said: "While the issue today is pension-specific, it marks wider issues about the way this government is trying to force the masses to pay for the luxuries at the top."
'Walked all over'
Kim Hunter, a 55-year-old teacher from Coventry, said: "I think it's a big concern that pensions are under threat, especially for low-paid public service workers, but the bigger issue is, what's going to happen to public services and the people who need them?"
Addressing the assembled protesters, Roger Moore, chair of West Midlands Fire Service for the Fire Brigades Union, said: "They [the government] want us to work longer, they want us to pay more, they want us to get less.
"I'm nearly 50. Do you want someone in their 60s on our fire engines pulling your husbands or children out of house fires, do you think that makes sense?"
Carol Lapworth, 47, a former council worker from Coventry who is currently unemployed, said she was also "fully supportive" of the protesters.
She said if the workers did not act now, they would be "walked all over" by the government in the future.
However, Alex White, a 20-year-old law student at the University of Warwick, said he had sympathy for the workers but thought that while negotiations were continuing it was not the right time to strike.
Janet Delaney, 65, a cleaner at Coventry University and who is not a member of a union, said she did not think the strike would achieve anything.
"If they [the government] can't afford it, they can't afford it and that's it," she said.
Gloria Kelly, 57, a secretary for a solicitors' firm in Coventry, said: "I agree with [the strikers] to a point, but I work in the private sector. I've been in my company 40 years.
"When I leave I won't get anything."
Earlier on Wednesday, about 35 strikers gathered outside the Witley refuse depot.
'Difficult decision'
BBC Coventry and Warwickshire reporter Sian Grzeszczyk said there were pickets outside every council building in Coventry.
Gill Bowser, head teacher at Aldermans Green Primary school, said striking had been a very difficult decision.
She added that she was "desperately sorry the children won't be in school".
About 104 schools, out of 119, are closed in Coventry with 174 in Warwickshire out of 247.
Healthcare workers in Coventry and Warwickshire have also joined the strikes.
University Hospitals Coventry and Warwickshire NHS Trust and the George Eliot Hospital NHS Trust said the strikes were not having an impact on emergency treatments or many general services.
However, patient transport, pathology, radiology, physiotherapy, occupational therapy and some pharmacy services were affected.
The trusts said some non-urgent surgical procedures had been rescheduled.
'Minimise disruption'
Some paramedics were taking part in strike action and West Midlands Ambulance Service warned people to only use the 999 service if absolutely necessary.
Coventry City Council said rubbish and recycling collections were affected by industrial action. It said bins missed on Wednesday would be collected on Thursday and Friday.
Some customer service points, including benefits and council tax inquiry desks, were also closed.
Warwickshire County Council said it had been working to minimise any disruption.
Ministers have said the cost of public sector pensions to the taxpayer had already gone up by a third, with workers enjoying a more generous pension than those in the private sector.
Prime Minister David Cameron said an improved offer was "very fair", including a pledge not to change conditions for workers within 10 years of retirement.