Turner Prize nominee George Shaw exhibits in home city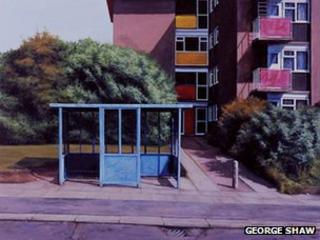 Turner Prize nominee George Shaw is returning to Coventry for the first major exhibition in his home city.
The collection goes on display later at the Herbert Art Gallery & Museum and runs until March 2012.
His work is particularly known for its use of Humbrol enamel paint - the type traditionally used by scale modellers.
He is one of four contenders for this year's Turner Prize with the winner being announced on 5 December in Gateshead.
'A sort of homecoming'
The exhibition, entitled 'George Shaw: I woz ere', is a retrospective of his work, much of which depicts the everyday scenes of his childhood on the Tile Hill estate in Coventry.
"Since I was able to read I have seen the words 'I woz ere' more times than I care to recall," said Shaw.
"Mostly when I see the words I am consumed by the kind of sadness that comes when I'm confronted by lost lives - of the simple vanishing of hours and hours, of experience coming to dust.
"This exhibition at the Herbert will be the first time a collection of these paintings will be shown in the place they represent.
"In some ways it does represent a sort of homecoming."
Part-funded by Arts Council England, the exhibition also includes his new series of watercolours, which are of the same scenes as his earlier enamel paintings, but as they appear today.
There will also be an informal display of Shaw's work from his time prior to art school, giving an insight into some of the artist's inspirations and influences.
Rosie Addenbrooke, from the Herbert, said: "Throughout a 15-year career Shaw has had international success, but this will be the first opportunity for those who live here to see their homes, pubs, parks and schools through the eyes of a world-renowned artist."
Born in 1966, Shaw left Coventry 20 years later to study Art at Sheffield Polytechnic. He completed an MA in Painting in 1998 at the Royal College of Art in London, where his early enamel painting style flourished.
He now lives and works in Devon.