Lifeguard who once feared water makes first rescue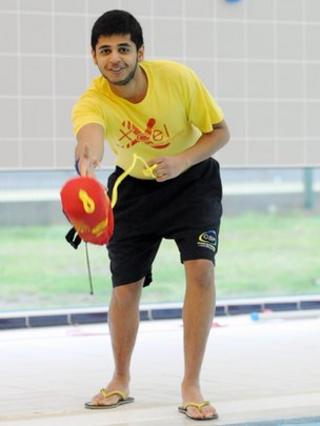 A 19-year-old from Warwickshire has overcome a fear of water triggered by a childhood accident to become a lifeguard.
Viveak Phull, from Stoke in Coventry, was six years old when he almost drowned.
"I was in India swimming when I got into trouble, but my uncle dived in and saved me," he said.
The incident happened while he was in a swimming pool in the Punjab on holiday.
He dived in and found he could not touch the bottom, and then went under the water.
He did not get back into the water after that for another three years, and only started trying to swim again when he was a teenager.
He has now qualified as a lifeguard and is working in a leisure centre and giving swimming lessons to other people who are afraid of the water.
He recently completed his first rescue, saving a child who got into difficulty in the deep end of the pool.
"To go from where I've come from to making my first rescue is a brilliant feeling," he said.
He was helped to complete his lifeguard training by the Coventry Sports Foundation.
The charitable trust helps people take modern apprenticeships that lead to sports related qualifications.
Operations manager Kath Healion said: "Viveak has a truly inspirational story and we hope it will help to encourage others to follow in his footsteps."