Gemma Hayter case review: Family criticises care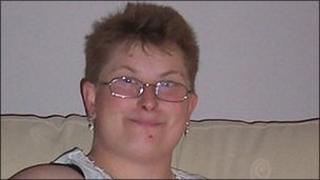 The family of a vulnerable woman who was tortured before being killed have criticised the care she received.
Gemma Hayter, 27, was found dead on a disused railway line in Rugby in Warwickshire on 9 August 2010. Three people were found guilty of her murder.
A serious case review into her death found no evidence her killing could have been prevented but highlighted "missed opportunities".
Ms Hayter's family said they were "devastated" at the report's findings.
The review concluded that it was clear Ms Hayter was believed to be at risk and found there were chances to initiate safeguarding procedures, assessments or other interventions and for agencies to share information.
Ms Hayter was murdered by people she thought were her friends.
She had been asked to drink urine and was beaten before her death.
Her family said in a statement the review had confirmed what they had always believed: that Ms Hayter was a vulnerable adult in need of help.
'Mate crime'
They said: "As a family we have known for 27 years that Gemma and we needed help.
"We have known that this help should have been available. We have constantly asked for help and advice.
"This review has finally confirmed that we were right to be worried, that help and advice was available but not forthcoming.
"We are devastated both with the findings, and that such negligence on the part of some of the agencies could and did happen."
At Warwick Crown Court in July, Daniel Newstead, 20, Joe Samuel Boyer, 18, and Chantelle Franklyn Booth, 22, all of Little Pennington Street, Rugby, were convicted of murder.
Jessica Lynas, 19, also of Little Pennington Street, and Duncan Edwards, 19, of Ashwood Court, were found guilty of manslaughter.
The Warwickshire Safeguarding Adults Board started its review into Ms Hayter's care last year.
The report, carried out by 11 people none of whom were connected to her care, found that although her death was not predictable, there was "clear evidence" she was vulnerable to the risk of abuse.
It found she had been a victim of "mate crime" on a regular basis over a period of time, by a number of people who were known to her.
But the report added none of these people were the people who killed her.
Although she was not formally diagnosed with a learning disability, the report said she was seen as someone who did have difficulties and vulnerabilities associated with a learning disability.
'Regularly exploited'
The report stated: "No single agency had a full picture of what was happening in Gemma's life: there were a number of missed opportunities for initiating safeguarding procedures, assessments or other interventions and for agencies to share information."
Kathy McAteer, the independent chair of the review, said: "While there was no evidence that Gemma's murder could have been prevented or predicted, if she had received and accepted better support she may have lived a better life and been less likely to fall into the company of people who presented serious risks.
"Gemma was a vulnerable young woman with lifelong difficulties who highly valued her independence.
"Though there was evidence that she was regularly exploited by people who knew her, and she was known to many agencies, no single agency had a full picture of her life and the level of risk she was exposed to.
"Like all of us, Gemma wanted friends and a social life and this case raises wider issues nationally about community safety for single adults who may be vulnerable to disability-based harassment, hate or mate crime and exploitation."
The partnership has produced an action plan to address the report's recommendations.
It said a number of improvements had already been implemented including a review and restructuring of adult social care learning disability services and issuing new social care guidance for responding to vulnerable adults who might not have had a learning disability formally diagnosed.
The adult social care learning disability team has also incorporated autism workers in its team to support people, like Ms Hayter, who have autism but no learning disability diagnosis.
Ms Hayter's sister Nikki Reid said she hoped the report would be a "turning point" for those agencies involved.
She said: "It's time the government woke up and took notice of these forgotten people.
"People that are vulnerable and in need of assistance, not only for an hour, a day or once a week, not only until they are 21 years old and classed as adults, but for the whole of their lives. They don't suddenly get better."