Coventry cathedral ruins: Fundraising campaign started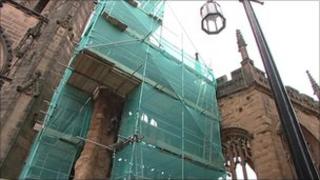 A fundraising campaign has been launched to preserve Coventry's cathedral ruins - on the 71st anniversary of the bombing of the city.
The ruins were recently included on an international list of buildings worthy of preservation.
The World Monuments Fund, which put together the list, is now working with those preserving the cathedral on major plans for the future of the ruins.
In September, scaffolding was put up as a crack appeared in the stone work.
The ruins were the result of damage inflicted by incendiary bombs in November 1940.
A new cathedral was built and consecrated in 1962 and the sandstone ruins preserved.
Ultimately, officials at the cathedral would like the ruins to be designated as a world monument to civilians around the world who are caught up in conflict.