BBC Coventry & Warwickshire Christmas carol concert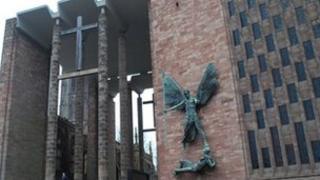 BBC Coventry & Warwickshire is offering its listeners the chance to take part in its Christmas carol concert at Coventry Cathedral.
The service, which will be held on Saturday 17 December, will feature carols, music and readings from a number of the radio station's presenters.
It will be recorded and broadcast at a later date during the festive period.
The concert at the cathedral is scheduled for 16:30 GMT, with doors opening an hour earlier.
Tickets will be available from 09:00 GMT on Monday 14 November. More details can be found at BBC Shows and Tours. Alternatively call 0370 901 1227.
BBC Coventry & Warwickshire will broadcast the concert on Christmas Eve at 17:00 GMT and on Christmas Day at 06:00 GMT and 13:00 GMT.
It will also be available on Listen Again for one week.