Woman delivers grandson on roadside verge in rush hour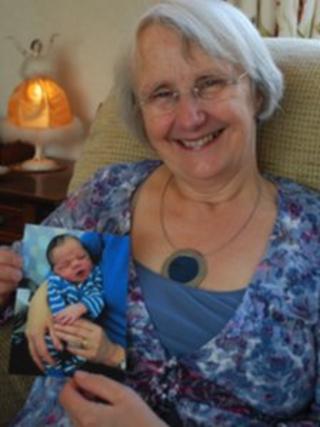 A grandmother has helped to deliver her fourth grandchild on the side of a Warwickshire road during rush-hour.
Hilary Wade, a retired midwife, was driving her daughter to Warwick Hospital when they realised that the baby's birth was imminent.
Suzie Rawlins gave birth to Gabriel in Lower Clopton, near to the busy A46 in Stratford-upon-Avon.
The family are now keen to track down to two dog walkers who helped them speak with the emergency services.
Baby Gabriel was born on a patch of grass on the side of the road in Kings Lane. He weighed 7lbs 9 1/2 oz.
'Get on with it'
Ms Wade said: "As we were driving along the A46, it became clear that the contractions were getting quite strong and Suzie was beginning to feel that the baby wasn't too far away.
"By the time we got to Stratford, I dialled 999, spoke to the ambulance, and they suggested I pulled off the road and waited for them.
"I thought the turn to Lower Clopton looked a good place to stop, and Suzie jumped out.
"The reason I chose this spot is because it's away from the main road, but within sight of the ambulance when it came, but it was as private as we could get really, considering."
Two female dog walkers arrived in a car and offered their assistance. They were able to keep talking to the emergency services, giving them directions.
Ms Wade said: "Very thankfully, a paramedic arrived with a delivery pack and some gas and air and I explained that I was a retired midwife, so basically she let me get on with it.
"So I delivered little Gabriel on the grass verge, on a blanket, and everything was fine.
"It wasn't until I got back later to collect my car that I found a note on the windscreen saying 'congratulations, hope all's gone well'."
She would now like to contact the walkers, believed to be called Sue and Steph, to thank them for their help.